I'm here to have a heart-to-heart discussion about the growing intense and passionate relationship – with capitalization. Allow me to demonstrate:
From a break room sign: "Please fill your Plate NOT your Tray"
From a corporate communication: "… our Associates … our Family."
From a restaurant menu: "Omelet comes with Bacon, toast and HashBrowns"
From an Instagram account: "JOhN sMiTh"
And, my point, on Twitter:
The attraction is real, and we need to nip it in the bud before it spirals out of control.
While we understand the desire to place emphasis on words within your content, unnecessary capitalization can portray amateurish writing and improper use of grammar – not to mention it can confuse (or, worse, infuriate) your reader. Your reputation can be tarnished with just a quick flick of a shift key!
Wisdom for Top Offenders
To give that shift key some due rest, take note of these common errors that come across our screens most often.
1. Job titles
For some reason, this seems to be a challenge for many, and it's likely because there are exceptions to the main rule. Alas, let's break it down: If the title of the person is in front of their name, capitalize it. If it is after the name, or title and name are separated by a comma, lowercase is protocol. Finally, a job title without a person connected to it is also not capitalized.
Regional Director of Dining Andrew Zimmern; Andrew Zimmern, regional director of dining; the regional director of dining, Andrew Zimmern.
Our associates enjoy great benefits.
We ensure our clients receive monthly visitations from our regional director, vice president and district chef.
2. Nouns
We all understand that proper nouns need capitalization (right?), but many common nouns should not be. Here are a few examples.
We can't wait to be a part of the Portland University family. Our groundskeeping services will revitalize the university campus.
We are headed south and then turning east, trying to avoid the storm coming in from the west.
I love eating Southern food, but you can't beat the flavors of the East Coast.
We cover the entire Midwest region as well as parts of the Northeast.
She earned her bachelor's degree in music, but John has a Master of Arts degree.
New classes will be added in Fall 2023, so be sure to sign up before summer.
3. Dietary words
While food items might be capitalized in menus, it's usually unnecessary within written copy. There is nothing special about a cheesy enchilada (other than it's delicious). However, consider the below problem areas:
Religious – the terms halal, kosher and pareve are never capitalized unless they're at the start of a sentence.
Regions – Russian dressing, Waldorf salad, Tabasco sauce – but french fries (because the name refers to the cut, not the country).

Cheeses – A special subsection because many cheeses are capitalized because of the regions they were named after (Asagio, Brie, Camembert, Gouda, Gruyere, Swiss and Parmesan), but not all should be (cheddar, feta, fontina, mozzarella and provolone).
4. Important details
We see this more times than you can imagine. Placing emphasis on a word by capitalizing is never appropriate (and just because it's important doesn't mean it needs uppercased … or worse, ALL CAPS … AND BOLD!).
Wrong: We'll bring our core values of Commitment and Integrity, while providing Great service and Engaging, Delicious meals.
Ending a Toxic Relationship
Although we may be breaking some hearts this Valentine's season, we're sure you'll see the importance and value of creating better content without the help of the shift key. No need to be gentle with this breakup – be swift, be adamant and be a better writer!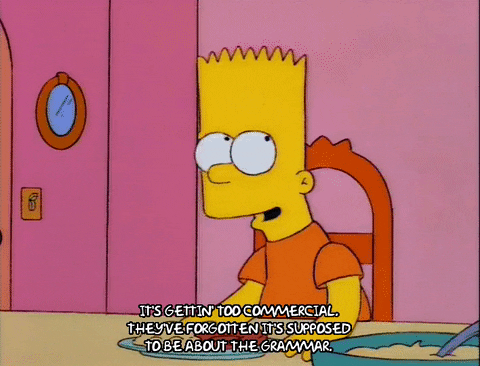 ---
Don't be sad. We'll be back on the first Monday next month with a new blog post. If you can't wait that long – whether because you have a topic you'd love us to cover, a question or you simply want to throw your two cents into the pot – we love talkin' shop, so drop us a line.